Digitalisation is the foundation on which the construction industry can build its resilience for the future. The global COVID-19 pandemic, in particular, has spurred companies in the sector to adopt digital solutions in order to stay agile.

But how exactly do companies benefit from going digital? Woh Hup and Kimly, two local leading construction firms, share their first-hand experiences.
Streamlining processes and improving productivity by up to 25% with digital visualisation tools
The Integrated Digital Delivery (IDD) framework utilises technologies like Building Information Modelling (BIM) and virtual reality to integrate work processes and connect stakeholders throughout the construction lifecycle. This makes project management smoother, boosts construction efficiency, and minimises expensive rework.

Woh Hup, a construction and civil engineering specialist, used to manually draw up its blueprints at the planning and design stage — a time-consuming process prone to misinterpretation. At the suggestion of JTC, the company integrated BIM, an intelligent 3D model-based collaborative process, into its build efforts. As a result, teams across the build chain can now visualise aspects of the building better, resulting in better coordination.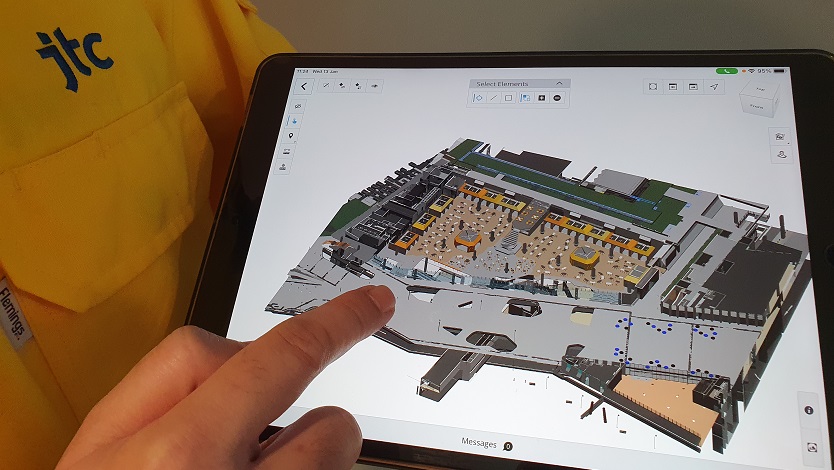 Visualisation of a model on a mobile device.
The system is currently used in the development of the 50-hectre Punggol Digital District (PDD) — Singapore's first smart district, which Woh Hup is developing with JTC. To allow project teams to share drawings and sketch designs remotely in real-time, the firm has also adopted the use of Miro, a digital whiteboard. These technologies have allowed projects to continue during the Circuit Breaker period, even when onsite works came to a standstill.
Virtual reality (VR) is another useful tool to help project teams visualise a project's design. "Through 3D-modelling techniques and VR collaboration systems, we were able to show our clients a 3D-rendered virtual environment of physical mock-ups of facades and interior spaces in advance. This shaved off time spent in the design stage by approximately 20-25%, as issues could be spotted earlier and improvements could be made early on," shares Mr Daniel Fung, Design Manager at Woh Hup.
Enhancing project management with the use of innovative technologies
Cloud-based solutions such as the Digital Safety Management system have allowed Kimly Construction to coordinate safety procedures seamlessly during the pandemic. The system digitalises and streamlines safety checks, and creates electronic safety reports that stakeholders can track from.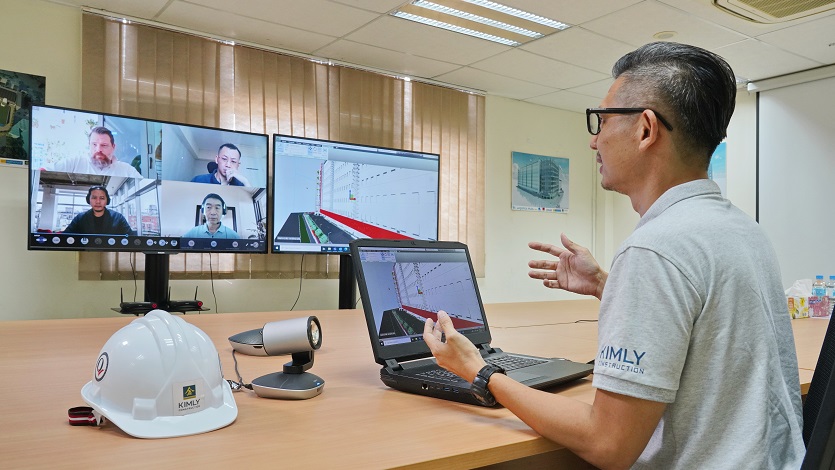 Virtual collaboration, design and planning are made possible with digital solutions.
The construction company has also adopted several new solutions in its current project, the JTC Logistics Hub @ Gul. Amongst them the Digital Defect Management (DDM) system, which allows Quality Assurance/Quality Control (QAQC) engineers to lodge defects and track the progress of corrective works on their mobile phones.

When defects are spotted, QAQC engineers can record down their observations and send mobile notifications directly to sub-contractors to carry out rectification works. Such solution helps the project team keep track and manage the progress of rectification works to be done," shares Mr Kho Teok Siong, Senior Virtual Design Construction (VDC) Manager at Kimly.
Tapping on industry support to start digital transformation
Like Woh Hup and Kimly, construction firms can collaborate with JTC in a myriad of ways to devise unique solutions that meet their specific needs.

Kimly Construction worked with JTC to pilot new technologies at the JTC Logistics Hub, such as a BIM-based logistics management system and a virtual inspection platform, to coordinate operations more effectively.

At PDD, Woh Hup is using a Common Data Environment (CDE) to communicate with JTC, contractors and sub-contractors. The CDE keeps communication clear and transparent to all stakeholders. Project managers can easily retrieve the latest technical drawings and track approvals. To help all stakeholders get onboard the common platform, training sessions were conducted by JTC. As a result, they are seeing a 20% increase in productivity.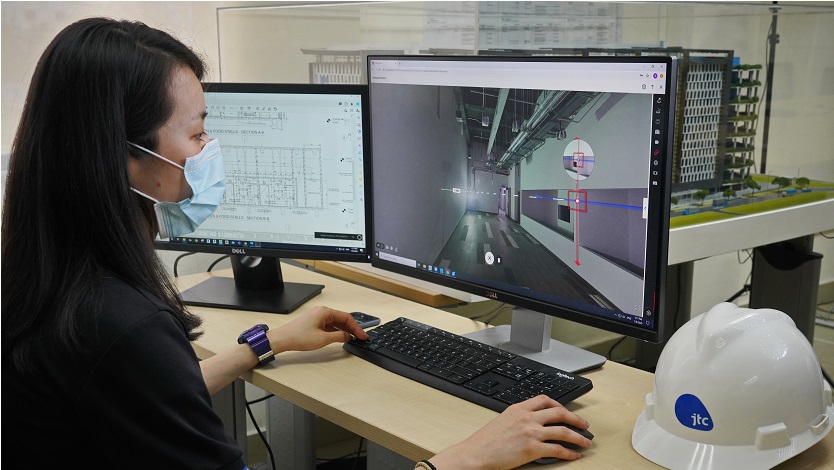 JTC project manager conducting virtual inspections remotely.
"As the Centre of Excellence in Singapore for building and infrastructure (B&I), we want to help the B&I industry become more productive. Because each project in the construction industry is unique, they need to learn different skills and adapt to different processes. To on-board them, we share how these new technologies can help them do their jobs better. Then we tailor relevant solutions and train them," says Foo Shi Min, a senior project manager from JTC overseeing PDD.

There are also several government grants and initiatives that can support construction companies' adoption of digital solutions, one of the most recent being the Advanced Digital Solutions scheme, supported by the Building and Construction Authority (BCA) and the Infocomm Media Development Authority (IMDA).
Investing in staff and understanding business needs
Staff training has played a vital role in helping Woh Hup and Kimly get to where they are in their digital journeys today. For Woh Hup, its staff regularly undergo new software training to keep their skills relevant. "As part of our R&D, our in-house teams also actively seek out relevant technologies and partners. This allows us to see what technologies are available out there that are relevant to our workflows and can improve our productivity," shares Mr Fung.

However, the success of a company's digitalisation efforts also depends on the receptivity of its staff. Everyone must be on the same page. "A successful technology implementation lies in the staff of the company. If they don't buy into the new technology and embrace it, it is as good as a white elephant," Mr Kho notes.

Both Mr Fung and Mr Kho stress that having a clear understanding of the company's problem statement and business needs is crucial in formulating an effective strategy. "It's not about purchasing expensive software, it's about understanding the software features and the value it can bring to your business. Companies should set their business goals, then research to see what works best for them," advises Mr Fung.

Digitalisation is hard work, but it is essential if construction firms want to keep up with the rest of the industry. "As projects become more integrated and complex, the use of digital technologies is almost fundamental to a project's success, to navigate evolving site works, stakeholder requirements and coordination. Companies should keep an open mind to try new technologies," notes Mr Fung.