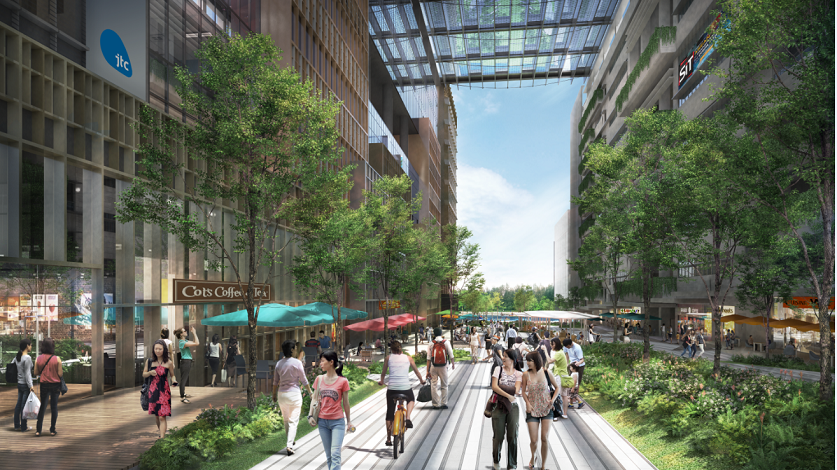 Artist's impression of Punggol Digital District's Campus Boulevard
What's in store for Singapore as it progresses to become a Smart Nation? For a glimpse of the possibilities, look no further than Punggol Digital District (PDD).

Master planned and developed by JTC, the 50-hectare district is shaping up to become a smart district unlike any other. When the business park opens progressively from 2024, PDD will help drive the adoption of cutting-edge urban solutions, push the boundaries of digital technologies, and bring together communities in a green and sustainable environment. The mixed-use district is also expected to create 28,000 jobs for the digital economy.

So what makes PDD the cornerstone of Singapore's Smart Nation ambitions? Here are five things to know about the highly anticipated smart district:

The Open Digital Platform is the heart — and brains — of PDD
PDD is envisioned as a living lab where innovations in cybersecurity, smart living, and estate management are pioneered. And making all these possible? The Open Digital Platform (ODP).

Co-developed by JTC and GovTech, the ODP integrates various smart technologies such as facilities management, security, and autonomous goods delivery systems, thereby optimising energy and resource efficiency in the district.

But that's not all. Data consolidated can be replicated in a "digital twin." This real-life 3D model of PDD allows companies to experiment and test-bed solutions securely and without the risks usually associated with actual trials. It paves the way for ideas to be brought to market faster.

"With the amount of district data collected, the digital twin allows playback of historical data. We can simulate events to improve district operations such as traffic flow in the car parks, or optimise cooling and lighting requirements during different times of the day," observes Mr James Tan, Director of JTC'S Smart District Division.

Partnerships power innovations at the smart district
PDD aims to nurture a vibrant ecosystem where opportunities to collaborate are plentiful. "Apart from the smart infrastructure, emphasis is placed on building a holistic ecosystem that fosters collaborative partnerships and innovation, which value-adds to businesses even before they move into the district," explains Mr Tan Boon Khai, CEO of JTC.

From a blockchain specialist to a global cybersecurity firm, the network is growing to include both international and homegrown names. Group-IB and Wanxiang Blockchain are some of the well-known industry players who will lend heft to the district.
More importantly, companies at PDD will have access to support from government agencies and associations right at their doorstep. The district will have the highest concentration of cybersecurity associations in Singapore: the Association of Information Security Professionals, Cloud Security Alliance Singapore Chapter, Centre for Strategic Cyberspace + International Studies, ISACA Singapore Chapter, and International Information System Security Certification Consortium Singapore Chapter will be part of PDD's network.

Activities such as international conferences, hackathons, seminars, and networking sessions will be jointly organised by the associations with Cyber Youth Singapore, Division Zero, and SGTech to strengthen the skillsets of Singapore's workforce in the digital technology arena.

Access to bright minds only takes a few steps
Talents are invaluable drivers of growth. And at PDD, this talent pool is just around the corner. That's because the Singapore Institute of Technology (SIT) will be sited in a unique "space swap" concept. The university's academic spaces will be located next to office spaces, thus opening doors to more opportunities between academia and industry.

For the 11,000 students and 500 academic staff of SIT, sharpening their knowledge and honing their skills at the new campus will take on an exciting approach. Students will benefit from an applied learning environment, while businesses can tap talents from SIT to co-create new solutions easily. According to Minister for Trade and Industry Mr Gan Kim Yong, this co-location of business and SIT "brings businesses to talent, and talent to businesses."

Going green is now smarter at PDD
PDD is built with sustainability in mind, which explains the multitude of design features and technologies deployed at the district to ensure it stays clean and green.

No detail has been overlooked. For example, buildings are oriented to maximise daylight and positioned to optimise wind movement. Meanwhile, a smart grid — the first of its kind for business parks in Singapore — is connected to the ODP to track and manage energy usage in real time. This allows buildings in the district to be 30-40% more energy efficient as compared to other conventional buildings.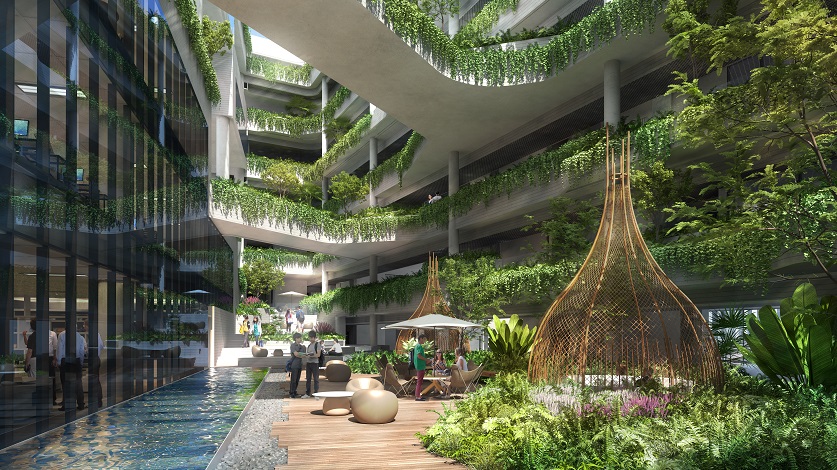 Artist's impression of Punggol Digital District
Electric vehicle (EV) owners will also get to charge their cars at several fast charging docks available in the district.
Where possible, resources are maximised for longevity as well. "Food and horticulture waste will be recycled into fertiliser, and rainwater collected in eco-ponds will be channeled for irrigation use," explains Miss Sophia Ng, director of the Infocomm Media and Startup cluster at JTC.

Connectivity and community are key
What else can you find at PDD besides the hum of innovation? Well, plenty! The business park isn't just a thriving hub for smart digital technologies, it is set to become a landmark destination for residents in the Punggol area.

"Punggol houses an estimated population of 187,800 people, with numbers set to rise over the next few years as more developments take shape and new residents and young families move into the town," adds Miss Ng. "We have built PDD with the community in mind. It will be a 24/7 place."

PDD is well-integrated with its surroundings. For example, it enjoys proximity to Coney Island, a nature haven popular with Singaporeans. The old Punggol Road will be transformed into a 1.3km-long pathway full of greenery and rustic charm.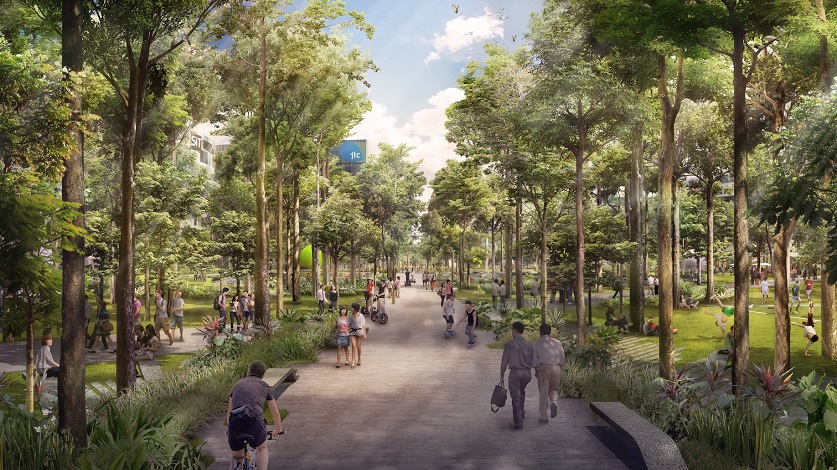 Artist's impression of Punggol Digital District's Heritage Trail
What's more, nature surrounds the district via verdant foliage that blends into community spaces. A tree-lined thoroughfare doubles up like an artery that takes visitors to various parts of PDD. Amenities, such as restaurants, retail shops, childcare centres, and a community club will complement the community's needs.

"Singaporeans will enjoy the convenience and better services brought about by technologies incorporated at PDD," says Miss Ng. "As we anchor digital giants, we shape the future for our children."