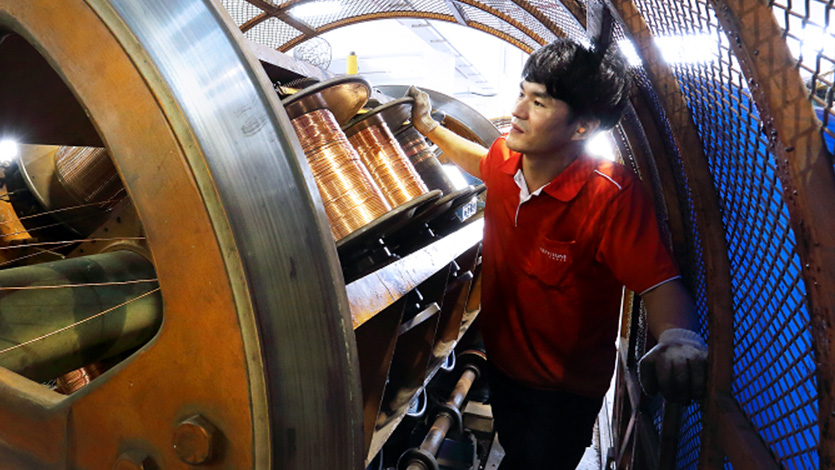 When home-grown company Keystone Cable introduced a digital system to track machine stoppages in 2015 they hoped the technology could guide efforts to reduce downtime and raise production.
But the project did not take off as expected, as it required operators to walk to a laptop situated far away to key in the data when stoppages occurred.
For small and medium-sized enterprises like Keystone, the risk of ending up with a "white elephant" after investing in technology is among their biggest fears, said Ms Pearl Yu, the firm's director of marketing and human resources. The company specialises in cables for various industries including building and infrastructure, oil and gas, and data communications.
"You can't just focus on technologies, your processes and people must also be ready to make that technology adoption successful," said Ms Yu. The company realised this through the Singapore Smart Industry Readiness Index (SIRI) – an assessment tool introduced by the Economic Development Board (EDB) to help companies evaluate their readiness for Industry 4.0 and pinpoint areas to focus on in their digital transformation.
Gearing up for industry 4.0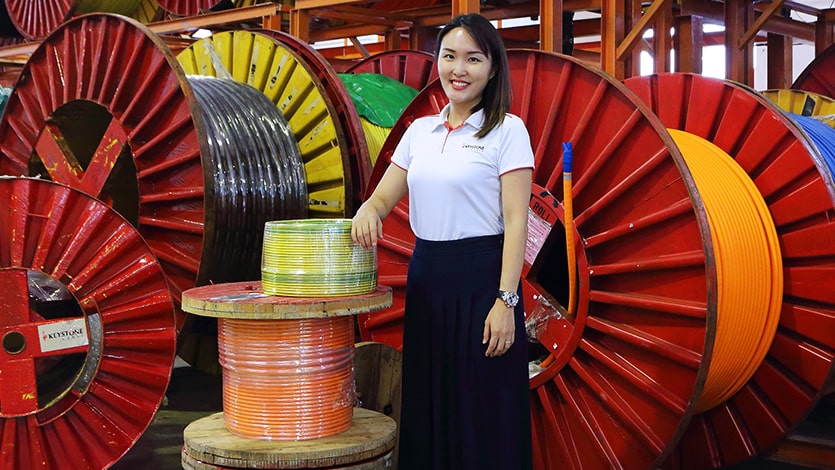 After SIRI's launch in November 2017, Keystone heard about the benefits of taking the diagnostic test from both JTC and Enterprise Singapore, and decided to go through the assessment in August 2018.
Ms Yu likened it to a "self-awareness" exercise that helped the cable manufacturer know where they stand. Besides evaluating the company's performance in 16 dimensions ranging across technology, process and organisation, SIRI also "zooms in on priorities for improvement", she added.
Companies rank a list of nine KPIs including revenue growth, inventory efficiency and customer experience, which SIRI assessors take into account to determine areas the firm should prioritise to achieve their top KPIs. Keystone's SIRI results pinpointed factors such as workforce readiness and horizontal integration as bigger priorities than technology-related ones, which Ms Yu did not expect.
Onn Wah Precision Engineering, another company that went through the assessment, appreciated that it reaffirmed their belief that snapping up ready-made solutions off the market may not work. Since 2013, Onn Wah's subsidiary, Onn Wah Tech, has invested S$600,000 in advanced manufacturing solutions, which has improved sales revenue by 70% and manufacturing capacity by 50%. Their SIRI results reinforced the need to focus on vertical integration, as well as workforce learning and development.
"It is not as simple as adding robots", noted Onn Wah's managing director, Mr Lam Keng Yew. "A lot of solutions have to be adapted. We need to think through the constraints and customise accordingly."
Onn Wah operates on a "high mix, low volume" model, where they manufacture a range of critical parts for different industries such as aerospace, oil and gas, and semiconductor, but in smaller quantities than mass production. This means they cannot adopt ready-made robotic solutions that are meant for high-volume manufacturers.
While the company already has machines that can be customised to create different parts, their challenge lies in automating labour-intensive routine tasks such as loading and unloading of parts into the machines, especially during short-staffed night shifts.
A previous trial to automate was met with hiccups, as the robot was unable to detect the metal chips or grip them properly, as compared to workers who can even check the chips. The firm is looking to install optic cameras on the robots to detect the chips instead.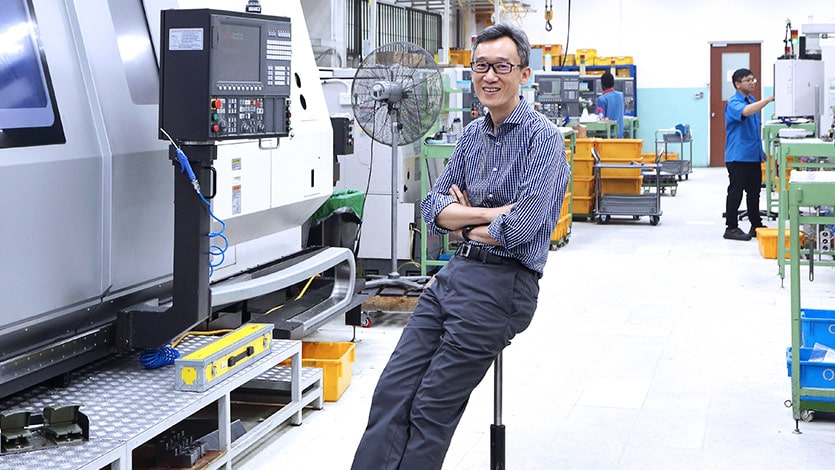 Putting people first
For both Keystone and Onn Wah, workforce readiness was highlighted in their SIRI assessments as a priority.
"The management should convey the message that it is about staying relevant and competitive, and motivate individuals to put in effort to grow new skills,"said Mr Mok Hon Yong, Onn Wah's chief strategy officer.
With data transparency as the next big hurdle to cross, the workers have to learn to be "comfortable" with the idea of being monitored or tracked on their output, said Mr Mok. Onn Wah's staff on the shop floor are encouraged to operate new machines through a monthly S$200 "multitasking allowance", and staff who share new ideas on improving processes can earn monetary incentives based on the value the innovation creates.
Staff feedback and involvement also play a big role when the firm introduces new technology or systems, added Mr Mok. Since August 2018, seven staff have been working on a pilot project to create an automated system that collects and analyses manufacturing data across the company's workstreams, under the advice of global management consulting firm McKinsey. There are plans for these staff to share what they have learnt in the future so that all 230 employees in Onn Wah are prepared, said Mr Mok.
Like Onn Wah, Keystone has sent its staff for training by McKinsey to prepare for digital transformation. "It's about involving them early enough so they are part of the change and have a sense of ownership," said Ms Yu.
Keystone also organises regular "lunch and learn" sessions where staff can hear from speakers on a range of topics. Some are related to trends in cable manufacturing, while others cover subjects from ergonomics to health.
Ms Yu added that visits to other manufacturing industries have also been useful to expose staff to innovations in other sectors, since the core technology in cable manufacturing has not changed much in past decades. She hopes these visits could generate inspiration to drive the company forward.
Focusing on the priorities
As both Onn Wah and Keystone continue on their road towards smarter manufacturing, the priorities highlighted by SIRI ensure that they stay on track.
Keystone aims to further boost operational efficiency by 10% through digitisation initiatives such as incorporating sensors into machines to automate repetitive tasks. While evaluating new digitisation technology to boost the output of their manufacturing facility is important, Keystone is also now more attuned to focusing on their work process and people readiness to achieve a better outcome.
Onn Wah has embarked on projects to better integrate the systems on their shop floor, to allow data to flow vertically. By integrating their manufacturing execution and enterprise resource planning systems, data will be gathered on machine performance, which will help them redesign the processes to maximise efficiency. They also have plans to develop a smart factory that will delve deeper into automation, data analytics and 3D printing.
Mr Lam added that SIRI could be especially useful for companies that "don't know where to start". "Not everything will be critical when adopting technologies. SIRI helped us focus on parts that can have the most impact on our business," he said.
To this end, companies can receive more help to identify the dimensions to focus on for the greatest benefits with the second tool under the SIRI initiative, the newly launched Prioritisation Matrix. They can also look forward to the expanded network of technology partners that JTC is working on with relevant agencies to help more companies start and scale up their Industry 4.0 initiatives.