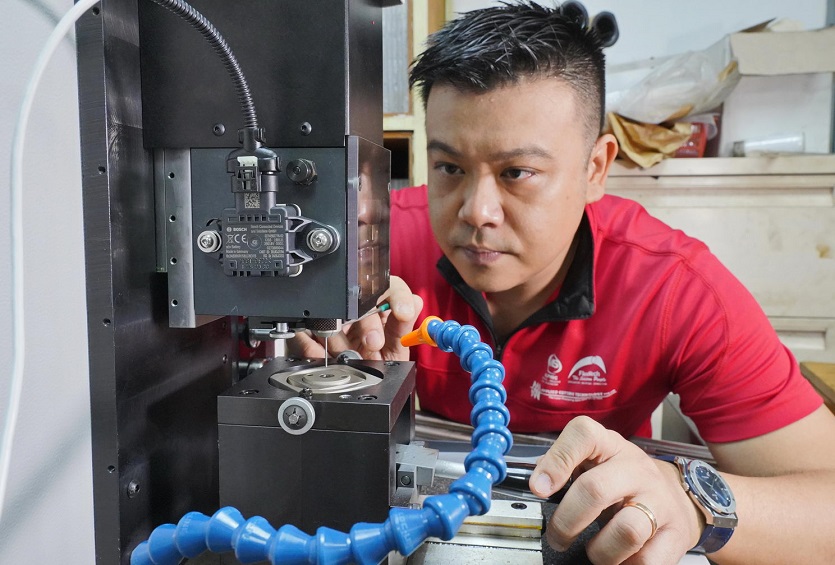 Mr Tan Ru Jin, Managing Director of Flexmech operating the legacy machine installed with sensors that track the machine's acoustics and vibrations.
For some time, Flexmech Engineering, a Singapore-based precision engineering equipment provider located at JTC's Tuas industrial estate, had been facing difficulties in maintaining its legacy machines.
"It is difficult and expensive to maintain the performance of older machines. Our machining tools that process equipment parts exert high cutting forces. When these tools break unexpectedly, they destroy the equipment part that is being processed, and can also damage our machines. This leads to expensive repairs and replacements, not to mention production downtime," shares Mr Tan Ru Jin, Managing Director of Flexmech.
While these challenges prompted Flexmech to schedule regular tool replacements to avoid breakages, such routine replacements create wastage as the tools may still be good to use for some time.

How Flexmech created its Industry 4.0 solution – by asking Bosch Rexroth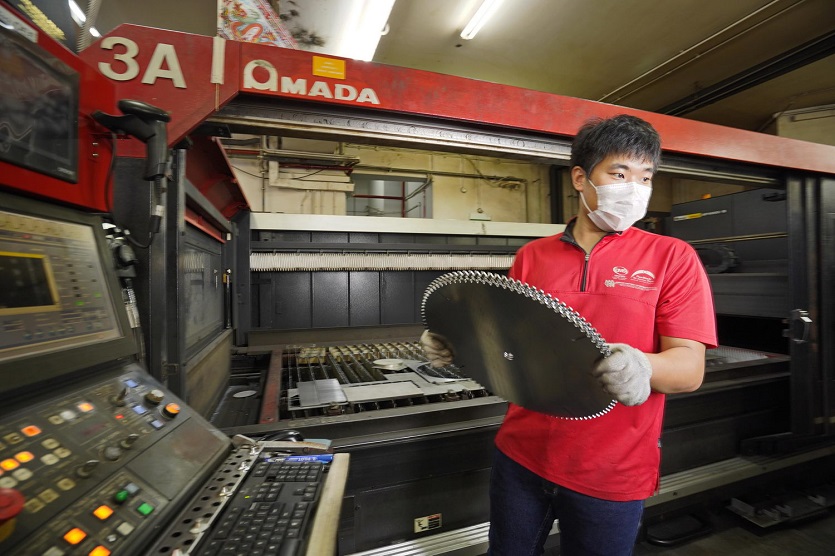 A Flexmech employee cuts out machine parts from sheet metal.
Seeking an easier way to monitor the condition of such machines, Flexmech turned to Bosch Rexroth for answers. The German technology giant helps companies learn the ropes of Industry 4.0 (I4.0) through industry workshops and training programmes. This is part of its new training centre for SMEs that will be located at the Jurong Innovation District (JID) next year.
Named the Bosch Rexroth Training Centre (BRRTC), it is a tie-up between Bosch Rexroth, JTC, SkillsFuture SG, Singapore Polytechnic and the Singaporean-German Chamber of Industry and Commerce. BRRTC offers Singapore companies access to capital-intensive technologies, but with low upfront costs. The centre also helps these companies testbed Proofs of Concepts (PoCs), facilitate implementation, and scale them up to solve practical industry problems. SMEs can get grants of up to 90% from SkillsFuture SG, while non-SMEs can obtain grants of up to 70% to fund the consultation and implementation of such PoCs.
Flexmech kickstarted discussions with Bosch Rexroth just late last year to develop its PoC, collaborating closely on knowledge, hardware and software project requirements every step of the way. "Bosch Rexroth offers us technology, integrators, and expertise in designing and implementing our PoC. All we have to do is share the solution we want, and Bosch Rexroth helps us bring it to market," affirms Mr Tan.
The result? Bosch Rexroth helped Flexmech design a PoC that adds "brains" to its legacy machines, allowing for real-time metrics on current flow, accuracy, movement, vibration, temperature, and light.
Adding "brains" to legacy machines
The PoC solution is elegant: end-to-end sensors are installed to measure acoustics and vibrations of the legacy machines around the clock. Factory managers access this data via a digital dashboard, which sends alerts when anomalies are detected, helping operators monitor machines remotely and anticipate maintenance needs.
"Our solution extends the tool life of a machine by 11%, which is around 1.5 days. And for a customer that operates over 700 machines, that translates into savings of $257,000 per year! In less than one year, our customer will get their return on investment and more," Mr Tan adds.
Flexmech's PoC not only makes it easier to monitor legacy machines, but also creates a cheaper solution that is more accessible for SMEs. Companies with legacy machines often find that upgrading to purpose-built smart machines is not an easy option due to their hefty price tags. "These machines often cost up to six figures, require system integration and include more features than companies actually need," Mr Tan notes.
"This solution costs just four figures, which makes it cheaper for SMEs like us to upgrade," enthuses Mr Tan. "For SMEs, I4.0 is definitely the way to go. Whatever we can do, our competitors can do cheaper, so we have to be smarter to retain an advantage," he adds.
Faster, better, more cost-effective: Flexmech's I4.0 journey continues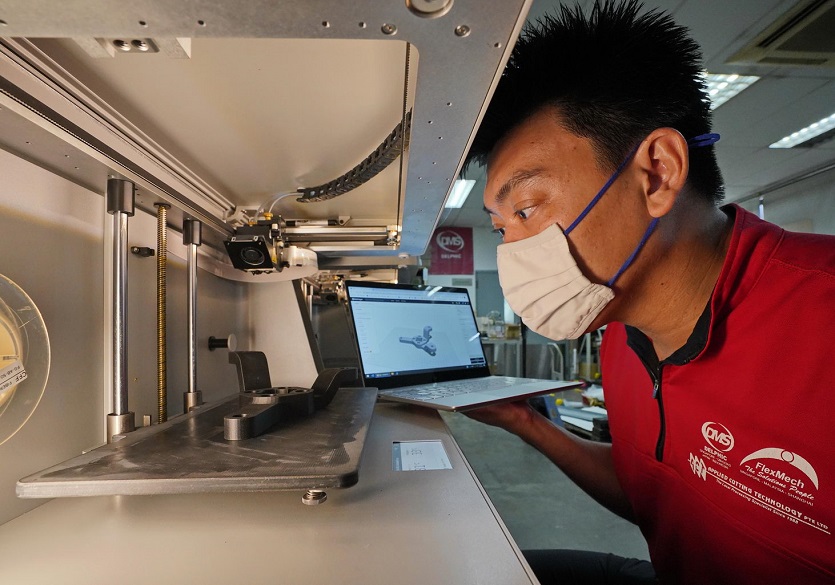 Flexmech will be embarking on in-house 3D printing solutions to serve the aerospace market.
As a second-generation leader of the family-owned business, Mr Tan's goal for Flexmech is to create competitive advantages for the company through I4.0. Since its digitalisation journey began in 2018, Flexmech has improved the productivity of its manufacturing processes and continues to seek ways to grow.
Flexmech is now implementing its PoC solution at a customer's factory, and is on track for full integration this year if all goes well. To scale this solution, Flexmech plans to hire and train staff to deploy the solution across other machine types. The company is ramping up I4.0 transformation with three more PoC projects with Bosch Rexroth in the pipeline, and it is also developing in-house 3D printing solutions to produce equipment parts for the wider aerospace market.
Collaborating with partners such as Bosch Rexroth at JID gives businesses like Flexmech a stronger chance at I4.0 success. "My point on digitalisation is this: anyone can do it, and everyone should do it," says Mr Tan. "At the end of the day, Singapore companies must be faster, better, and more cost-effective to compete with the world."