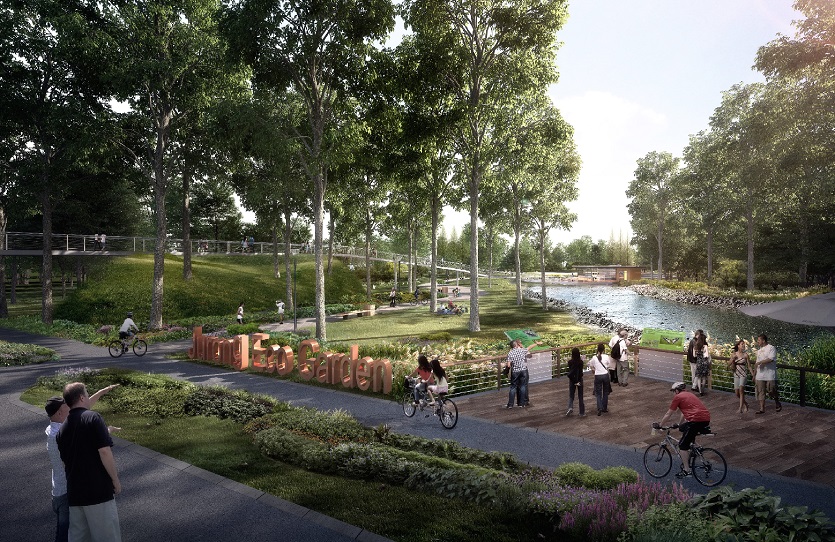 An artist's impression of the refurbished Jurong Eco-Garden, which will be ready in 2024.
For Jurong West residents, Jurong Eco-Garden is a mere 120m from their estate.

But getting to the park on foot takes considerably longer, with the Pan-Island Expressway (PIE) between them and the park, requiring most residents to trek at least 1km to cross under the PIE via Jalan Bahar to get to the green space.

Come 2024, going to the park for these residents will be made easier, thanks to a new 110m pedestrian overhead bridge that JTC Corporation plans to build over the PIE to connect residents to the garden.
The new bridge is among a slew of developments that will be ready by 2024, as JTC's plans for the 600ha Jurong Innovation District – an advanced manufacturing hub equivalent in size to Choa Chu Kang – take shape following construction delays caused by the Covid-19 pandemic.

The district, spanning five precincts, was touted as "the industrial park of the future" when announced by then Finance Minister Heng Swee Keat at Budget 2016.

It includes existing developments such as Nanyang Technological University (NTU) and CleanTech Park – a 60ha precinct that is about 40 per cent developed and is home to the 5ha Jurong Eco-Garden.

The three other precincts are Bulim, which is currently being developed, and Bahar and Tengah, which are to be developed in the future.
Ms Finn Tay, JTC's New Estates Division 1 director, told The Straits Times that Jurong Eco-Garden, which was officially opened in June 2014, will undergo refurbishment between 2023 and 2024.

When completed, the refurbished park will have a new playground, a fitness corner and upgraded footpaths, said Ms Tay, adding that residents had informed JTC about how getting to the park was a challenge.

She noted that visitorship to the garden swelled during the pandemic, which prompted JTC to prioritise the completion of the forthcoming overhead bridge to boost convenience.
Besides these upgrades, JTC's flagship multi-tenant development, Bulim Square, will open in 2024. In addition to businesses, the development will have amenities for workers and residents, such as retail and food and beverage shops, said Ms Tay.

She added that two types of infrastructure being built for the first time in a JTC industrial estate will also be completed in stages from 2024.

An 11km-long elevated pathway called Sky Corridor will connect the district's five precincts, allowing commuters to walk, cycle and possibly take an autonomous vehicle to get from point to point. A 1.1km-long and up to 17m-wide stretch of the corridor will be completed in the Bulim precinct by 2024.

Subsequent segments of the corridor in CleanTech Park and Bahar will be completed in tandem with infrastructure works in those precincts, Ms Tay said. She added that JTC is in talks with NTU on plans for the corridor, and the extent to which it will be integrated with the university's campus.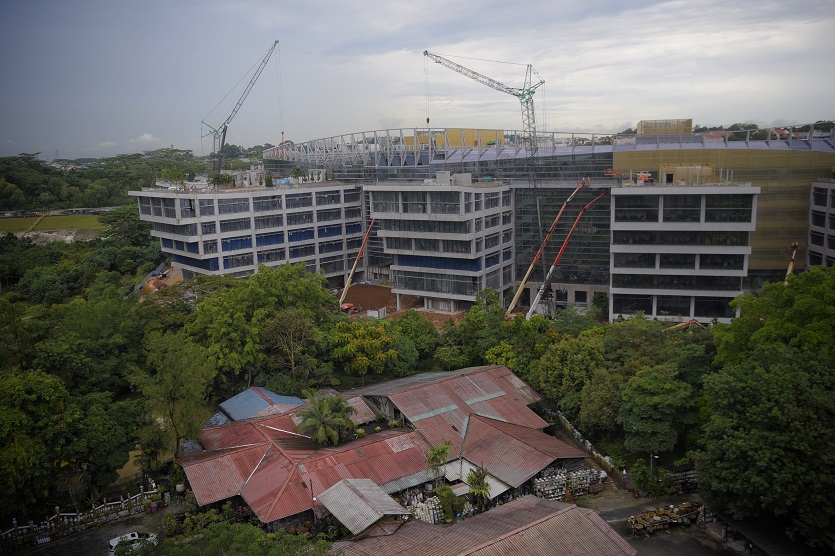 An aerial view of the Surbana Jurong Campus in CleanTech Park on Oct 6, 2022 (Photograph: ST File)
In addition, an underground network of tunnels for heavy vehicles, known as the District Logistics Network, will be ready from 2024, beginning with a stretch in Bulim.

The network, which will keep heavy vehicles off ground-level roads, allows JTC to shrink the footprint of roads as the roads will focus on accommodating buses, public service vehicles and private cars, said Ms Tay. The tunnels are designed to be used by autonomous trucks in the future, she added.
Also to be completed in Bulim by 2024 will be portions of Bulim Park, a 10ha linear park that will, together with other green spaces including streetside plants and rooftop gardens, contribute to JTC's goal of having 30 per cent of the district's surface area covered in greenery.

The district has attracted high-profile companies such as consulting firm Surbana Jurong, which will open its campus in 2023, and Hyundai Motor Group, whose innovation centre is set to begin operations in 2024.

Highlighting Jurong Innovation District's proximity to residential areas, Ms Tay said JTC made an effort to accommodate the needs of the surrounding residential community in the agency's plans for the district through consultation.

For instance, she said, a new heavy vehicle park will be built in Tengah to replace one that is currently within Bulim that will have to make way for development.

Most drivers who utilise the heavy vehicle park in Bulim are residents of the area, said Ms Tay. JTC will work with other agencies to ensure that adequate infrastructure will be provided to help the drivers get between home and the vehicle park safely, as many of them end their shifts in the dead of night.

Mr Jason Tan, a Jurong West resident of 15 years, who attended two engagement sessions with JTC, said he looks forward to developments in the Bulim precinct, as they will make the neighbourhood livelier, with amenities such as the new Bulim Park and Sky Corridor.

The 45-year-old operations manager added that easier access to the refreshed Jurong Eco-Garden will improve recreational spaces, and encourage residents to live healthier lifestyles through exercise.
Source: The Straits Times © SPH Media Limited. Permission required for reproduction.