The strength of any business ecosystem is determined by the quality of the players that support it. As Asia's leading advanced manufacturing hub, Jurong Innovation District's (JID) ecosystem is enhanced by a bevy of technology solution providers, research agencies and academic institutions. Buoyed by it, the 620-hectare district is where ideas are crystallised, and transformational products for Industry 4.0 (I4.0) are developed.
Besides industry heavyweights such as Shimano and Hyundai Motor Group Innovation Centre in Singapore (HMGICS), new names have entered the fold. Each company brings with it a unique yet complementary set of capabilities.
Bosch Rexroth Regional Training Centre: An advocate of Industry 4.0 transformation
Located at JTC CleanTech Three @ Jurong Innovation District, the training arm of global engineering firm Bosch Rexroth, Bosch Rexroth Regional Training Centre (BRRTC) is committed to driving the adoption of I4.0 technologies in Singapore. To achieve its vision, the centre has struck up partnerships with Singapore Polytechnic (SP), SkillsFuture Singapore (SSG), and Singaporean-German Chamber of Industry and Commerce (SGC).
With SP, the centre offers courses aimed at reskilling and upskilling engineering associates. BRRTC further extends its resources through the Proof of Concept (PoC) initiative, allowing companies to tap on its I4.0 solutions such as IoT gateway to jumpstart their own digital transformation journeys. The costs for developing the PoCs are subsidised by SSG.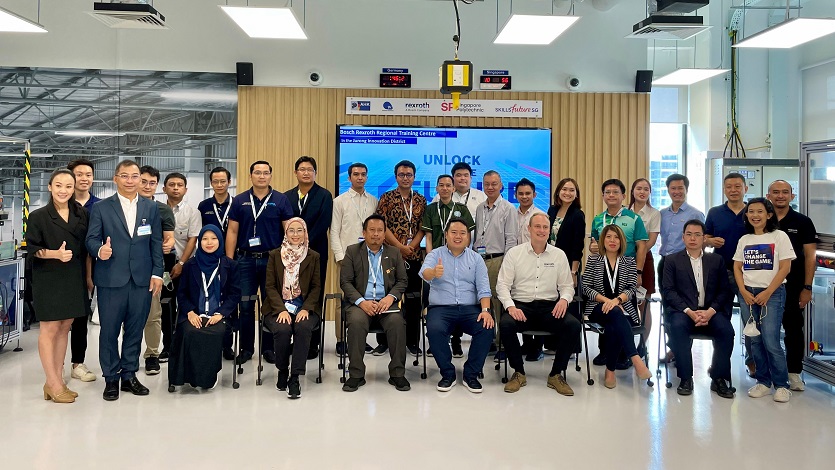 BRRTC's trainers pose with participants of the 10-day programme Industry Specialist AHK i4.0, which aims to equip specialists with the skills to devise proposals and spearhead their own companies' digital transformations.
"By setting up our training centre in JID where the latest advanced manufacturing activities are taking place, we offer up our engineering expertise to nurture a new generation of engineers who can contribute meaningfully to the manufacturing workforce," says Mr Michel Gunawan, President and CEO of Bosch Rexroth ASEAN and Oceania.
VFlowTech: Shaping the future of energy storage
VFlowTech has already made its presence known at JID with modular 40-foot ISO containers deployed near the electric vehicle charging stations at CleanTech One's carpark. They house VflowTech's flagship PowerCube, a type of vanadium redox flow battery. With reliability and durability as its hallmarks, the solution stores energy from renewable power sources — in this case, solar energy. The successful testbed has attracted the attention of market watchers in South Korea, Africa, India, Japan, and Australia.
VFlowTech is a Singapore-based company founded in association with Entrepreneur First and Nanyang Technological University (NTU). Being a spinoff of NTU, the company benefits greatly from the university's unique intellectual properties, says CEO Dr Avishek Kumar. It works very closely with NTU's professors and students, and as such being at JID allows the team to be close to the NTU campus.
"Furthermore, game-changing solutions will be bred here," adds Dr Kumar. "We can discuss new synergies with other industry players conveniently. This will enable us to continue playing our small but important role in the energy transition journey, and contribute towards Singapore's green future."
For VFlowTech, the contributions will involve the development of affordable modular vanadium redox flow batteries with a long-lasting lifespan. These solutions are an alternative for diesel generators and lithium-ion batteries in microgrid, power backup as well as management system and utility applications.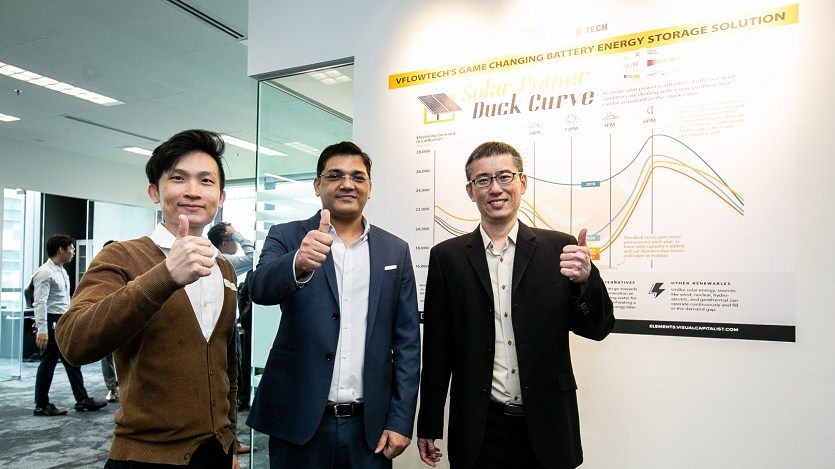 CEO Dr Avishek Kumar (centre) at the official opening of the VFlowTech office on 29 August 2022.

Surbana Jurong: Designing and engineering cutting-edge solutions for the built environment
Jewel Changi Airport, Temasek Shophouse, and Tuas Megaport — these are just a few landmarks with Surbana Jurong's fingerprints on them. To date, the urban and infrastructure consulting firm has built more than a million homes in Singapore, and developed over 100 industrial parks across the world. It delivers sustainable solutions covering the entire project lifecycle from planning to design, delivery to management, decommissioning to closure.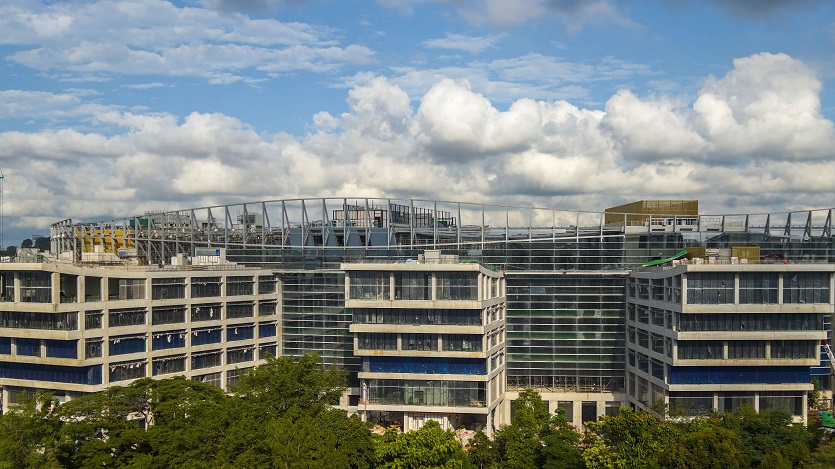 Situated on a previously undeveloped greenfield site, the Campus will push the boundaries of sustainable design in both construction and operation.
The 68,915 sqm development is a vibrant ecosystem of enterprises specialising in advanced manufacturing, urban solutions and smart logistics. The Campus will support Surbana Jurong's rapid growth by facilitating stronger teamwork and knowledge sharing among its Singaporean and global talents, and will serve as the nerve centre for research and development (R&D) of innovation for the built environment.
The campus is envisioned to be a living lab with dedicated spaces for research and test-bedding of new ideas, including future-ready solutions developed by the SJ-NTU Corporate Lab. Also, Surbana Jurong hopes to explore collaborations with other JID stakeholders to fast-track the uptake of smart technologies and solutions, a number of which are being deployed at the Surbana Jurong Campus. When completed, the Campus will be one of Singapore's first commercial buildings of this scale to adopt Integrated Digital Delivery (IDD), which uses smartboards, drones, flip boards and collaborative software to support virtual design, construction and collaboration.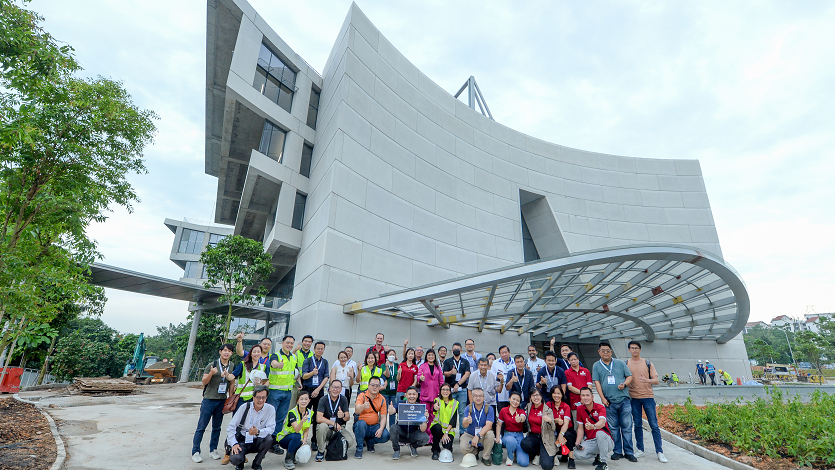 Participants from the International Built Environment Week (IBEW) Conference 2022 toured Surbana Jurong Campus to understand how Design for Manufacturing Assembly, a key pillar of Singapore's Construction Industry Transformation Map, was adopted during the development of the project.
XT Xing: Providing high-quality materials for complex manufacturing applications
XT Xing is one of the few businesses in the world to purvey the electrostatic dissipative (ESD) zirconia ceramic . ESD materials are generally used to reduce the occurrence and presence of detrimental static electricity charges where critical microelectronics are concerned. One of the ESD zirconia ceramic's uses is to dissipate static charges when manufacturing hard-disk microelectronics. Other than the ESD ceramic materials, XT Xing supports requirements for high-quality engineering components with unique intrinsic properties, such as semiconductor materials , optoelectronics, refractory metals, quartz and many more customised parts. They are used for a multitude of product and process engineering applications across the spectrum of hard-disk, semiconductor, and electro-mechanical manufacturing industries.
Because of the highly sensitive nature of the engineering materials prevalent in its operations, the facility has to be kept sanitised at all times. "CleanTech Three as such has been a perfect space ", says managing director Mr Raj Saram. "When it comes to the upkeep, we play our part by observing maintenance protocols, thus ensuring the overall cleanliness of the building and its surrounding environment for the common good," he adds.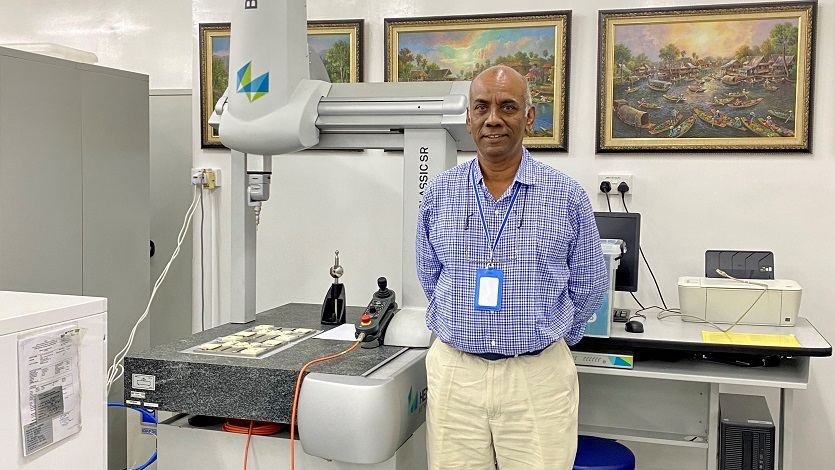 Mr Raj Saram and one of his test equipment, which allows him to reverse engineer special materials with customised features.
Mr Saram also finds JID an environment conducive to idea incubation, and it is all thanks to the high density of qualified researchers and engineers. NTU and A*STAR are here, providing a steady pipeline of young talents, while the presence of big names such as Makino and his immediate neighbour BRRTC encourages a free exchange of insights.
"All of us speak the same language of technology. And when your neighbours are of such a calibre, you can run your problems by them, and they can provide useful ideas for solutions. My interactions with them have kept me abreast of new technologies and their capabilities. They have helped me realise that I don't always need to stick to traditional processes for my business — I can in fact utilise 3D printing to produce some of the manufactured customised parts. That is something I'm looking to explore in the near future."