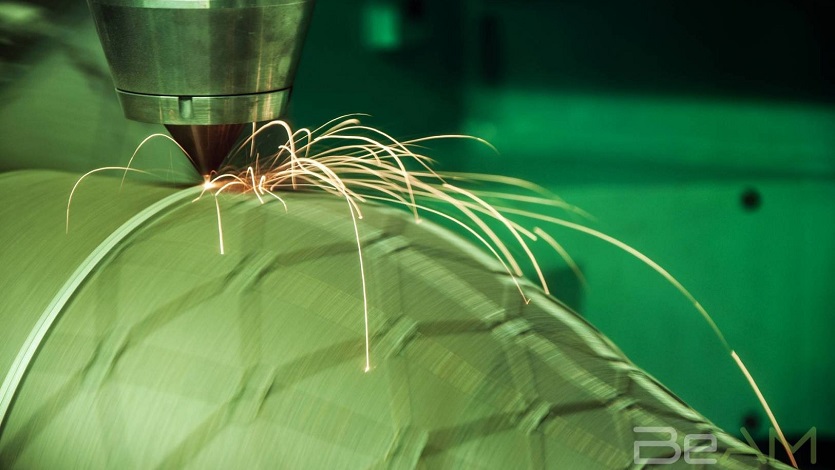 3D printing, also known as additive manufacturing, is disrupting the world of manufacturing in unprecedented ways. The versatile technology lends itself to a diverse range of applications that has driven demand across the globe in the biomedical, construction, and electronics industries, among others.
At JTC's Jurong Innovation District (JID), Asia's hub for advanced manufacturing, a growing number of industry leaders in 3D printing are showcasing their capabilities and collaborating with businesses to spur adoption of the technology across the innovation ecosystem.

As SMEs and MNCs tap into the expertise and resources of this community, they forge valuable partnerships and gain the know-how required to adopt new digital solutions in their manufacturing processes. Here is a look at these industry heavyweights in JID leading the charge in the realm of 3D printing.
1. Makino – A new Additive Manufacturing Centre of Excellence in Singapore
After launching a smart factory in Tuas in 2019, machine manufacturer Makino will further expand its presence in Singapore with an Additive Manufacturing Centre of Excellence in JID, offering consultancy and prototyping services to support the adoption of 3D printing technology in production.

Makino manufactures a wide range of Milling and Electrical Discharge Machines, which are widely used in the finishing of 3D printed metal parts. Their unique automation solutions, coupled with software and application development expertise, are applied across multiple industries in products such as jet engine, power generation, automotive, and oil and gas.

Makino's vast experience in manufacturing solutions allows them to help customers bridge the gap between applying advanced manufacturing from prototyping, and implementing it in the actual production.

In November 2020, Makino announced a landmark project with 3D metal printer manufacturer Additive Industries, to develop hybrid process chains that integrate 3D printing and post processing. More projects are in the pipeline to further develop industry-ready solutions for the market.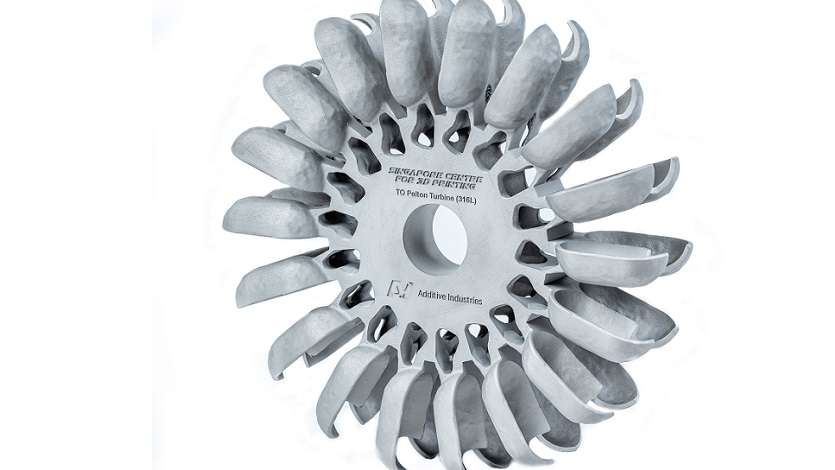 A Pelton Turbine manufactured with 3D printing (Photo: Makino Asia)
2. DMG MORI – Pioneer in 3D printing multi-material die cast moulds
Japan-based DMG MORI, who currently has five Additive Manufacturing Excellence Centers around the world, has opened a new facility in JID to provide technical support and technology development for its equipment, systems and software.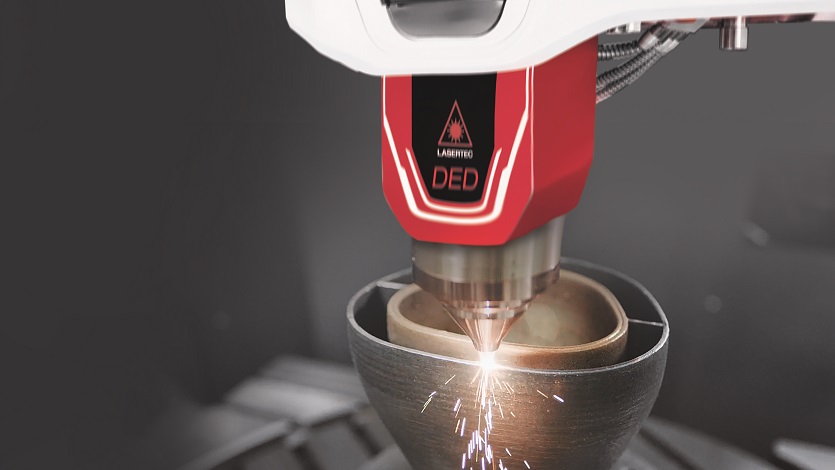 Hybrid 3D printing technology (Photo: DMG MORI)
DMG MORI's hybrid 3D printing machines can add materials by powder nozzle welding and remove material by full 5-axis milling. An all-in-one machine and setup, the 3D printing machines are also fully digitalised. By utilising multi materials, they have revolutionised the production of die cast moulds, which are often used in in aluminium casting and in the automotive industry. The process increases cost-effectiveness by reducing scrap and extending tool life, and it is also more sustainable as it reduces carbon footprint within the supply chain. In fact, DMG MORI won the NADCA International Die Casting Design Competition in 2020 for their capability to produce multi-material die cast moulds with 3D printing machines.
3. Sodick – Expert in precision engineering applications
With a focus on metal 3D printers and precision engineering, Japan's leading machine manufacturer Sodick opened the Sodick Singapore Techno Centre (SSTC) in JID in 2019 to drive greater adoption of advanced manufacturing in Singapore. SSTC showcases Sodick's latest 3D printing technologies, holds seminars and courses on 3D printing, and allows companies to develop, test and adopt new ideas and concepts.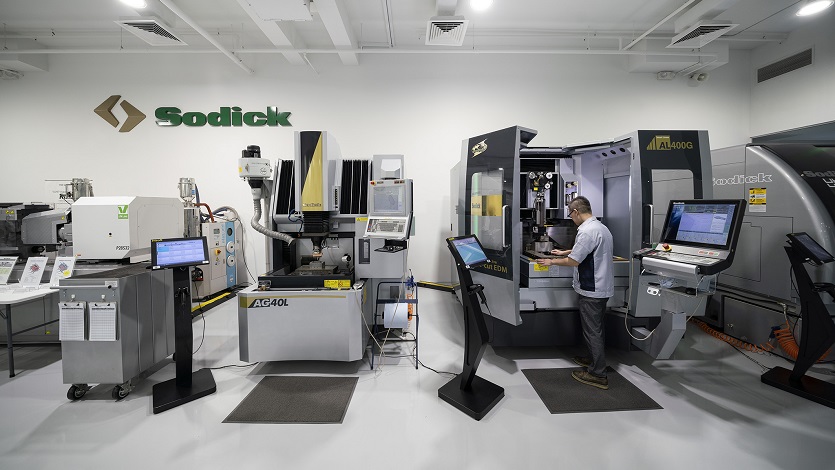 Sodick Singapore Techno Centre, located in JID

Sodick is introducing a new line-up of flexible automation solutions for businesses that are gearing up for Industry 4.0. These capabilities include the linking up of 3D metal printing machines with the Internet of Things (IoT), which can unlock critical data about the performance of the machines and provide insights that help businesses improve the processes and overall productivity.
4. BeAM – Manufacturer of DED additive manufacturing machines
BeAM specialises in Metal Additive Manufacturing machines that employ Laser Directed Energy Deposition (DED) technology. The DED process can be used for a variety of industrial applications, such as repairing worn or damaged parts, extending the life of parts with wear-resistant coatings, and creating additional structures on existing parts.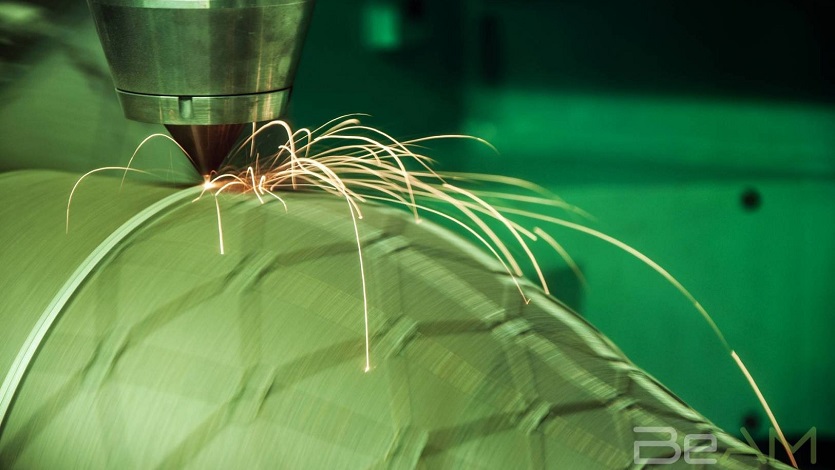 Directed Energy Deposition (DED) technology (Photo: BeAM)
Through the Asia Pacific Solutions Centre in JID, BeAM helps develop companies' manufacturing and repair processes with services that cover the entire production cycle, from feasibility studies and pilot production, to the sale of production units and corresponding training programmes. Their modular and scalable machines are customisable for companies both in the discovery phase, and those intending to ramp up their metal 3D printing activities.
BeAM is a part of the AddUp group, an industry leader in metal additive manufacturing who has one of the biggest parts production capabilities in Europe. Besides BeAM's DED machines, AddUp also manufactures FormUp Powder Bed Fusion machines, which are widely used in metal additive manufacturing as well. AddUp's expertise covers the complete process of additive manufacturing with significantly lower production costs, from the selection of powders to innovative laser recipes and process monitoring using AI solutions, they are well-equipped to support businesses in achieving their additive manufacturing goals.

With this growing ecosystem of major players in the 3D printing industry, JID is poised to support the transformation of Singapore's manufacturing sector towards digital and advanced technologies. As manufacturers, researchers, and training providers, these leading companies are opening up new opportunities and paving the way for 3D printing to become a key driver of industry and economic growth.
Want to join in on the action?
Sign up for our newsletter to receive the latest industry news, initiatives and events surrounding advanced manufacturing.