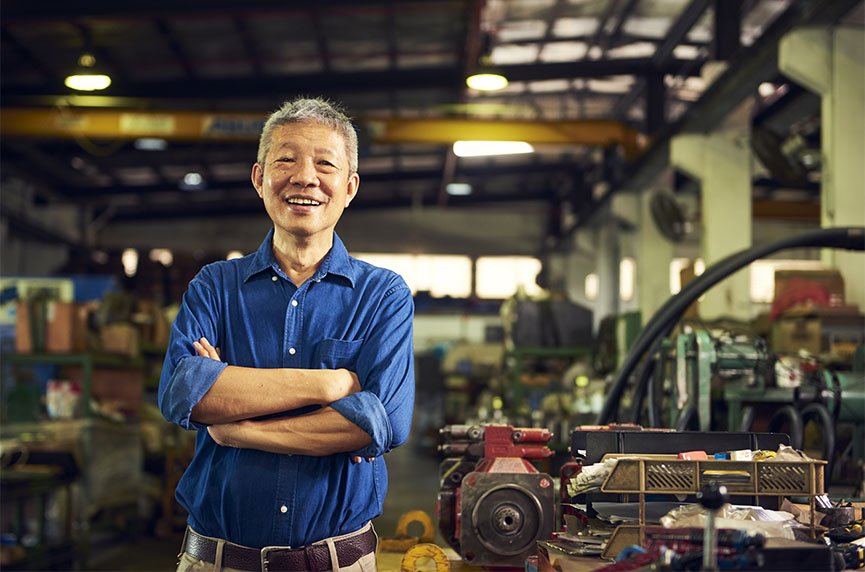 Managing Director Chia Kok Liang said that with digitalisation, Flo-Line Hydraulics is using data analytics to more accurately estimate its costs before bidding for projects, helping it become more competitive (Photograph by SPH)
Established in 1987 and located in JTC's Jurong Industrial Estate, Flo-Line Hydraulics is a distributor of high-quality mobile and industrial hydraulic components. Before the company started its digital transformation journey, it could only rely on estimates to set its bidding prices for projects as it did not have accurate data for analysis.

As companies can monitor prices, costs and productivity through digitalisation, Flo-Line Hydraulics' managing director, Mr Chia Kok Liang decided that "digitalisation is the way forward for the company." After digitalisation, it can now use data analysis to more accurately estimate its costs and arrive at its bidding prices. This has improved its competitiveness.

In January 2020, JTC launched Industry Connect to enable manufacturers interested in business development or transformation to expand their networks to locate the various resources and assistance needed. So far, 1,000 companies have participated in the digitalisation journey under Industry 4.0, and 250 of them have begun their transformation. Flo-Line Hydraulics is one of them.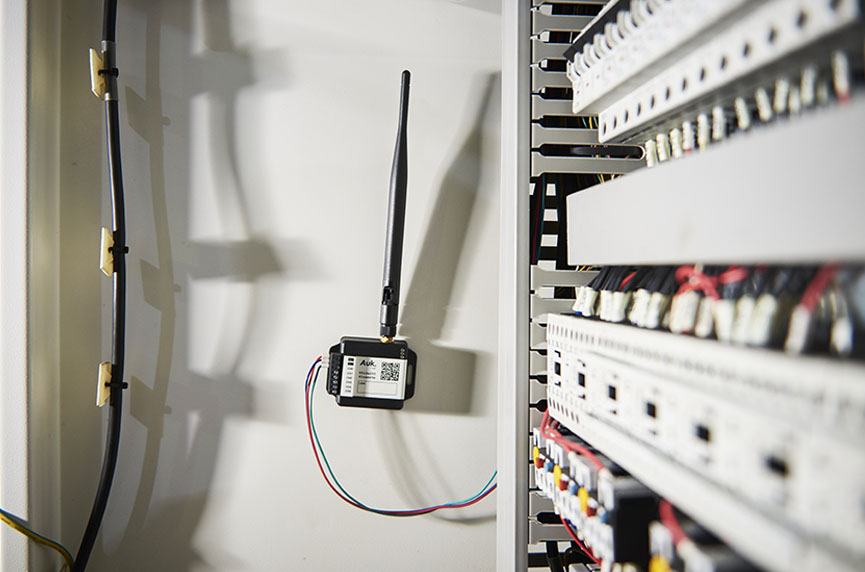 The inconspicuous Internet of Things (IoT) equipment (the small black device on the left) can help local manufacturers increase their productivity and begin their digitalisation journey. (Photograph by SPH)

No more guesswork with accurate data

When Mr Chia was negotiating with JTC to extend the factory's lease last year, he was recommended by JTC to participate in the Industry 4.0 Human Capital Initiative (IHCI). Jointly launched by the Singapore Business Federation (SBF) and Workforce Singapore (WSG), the initiative sees McKinsey & Company providing consulting services to help companies increase their productivity.

Mr Chia thought that he would give it a try. The company became the second batch of local companies to join the programme in September 2020. Through IHCI, McKinsey spent about eight weeks assisting the company to commence its digitalisation journey, and this yielded immediate results in increasing its productivity by 10% to 30%.

"We originally thought that digitalisation was suitable only for companies that undertake big projects. After embarking on digitalisation, we realised that 'digitalisation is a great equaliser for SMEs, allowing us to monitor machine OEE (Overall Equipment Effectiveness) and obtain data to improve productivity through process improvements and changes in working habits" said Mr Chia.

Transforming in phases only after seeing results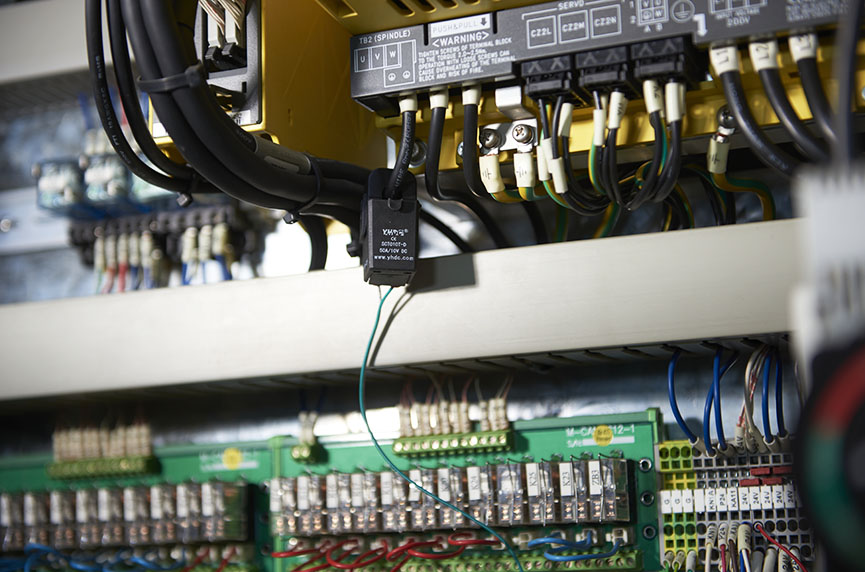 Flo-Line Hydraulics installed IoT equipment in its machines in two phases, which more effectively controlled its costs and productivity in the entire workflow. (Photograph by SPH)

Mr Chia is fully aware that digitalising the business cannot be accomplished overnight and has chosen to implement it in phases – he will only start the next phase after the preceding phase has yielded satisfactory results. He understands that digital transformation is a gradual process and must be adapted according to market changes.

The first phase started with a pilot trial of IoT equipment installed on three machines in the machining department, which Mckinsey had identified as the most critical part in their production. This enabled the supervisors to monitor production at all times through wireless connections and control work progress to avoid bottlenecks.

The IoT equipment also enabled the company to more accurately measure the contributions of its employees, instead of relying on the supervisors' records of the employees' monthly workloads. After the installation of the IoT equipment, the machining department's productivity increased by more than 10%. The machining work was completed on schedule, even when only half the workforce was allowed to be deployed during COVID-19.

Mr Chia explained that Flo-Line Hydraulics rewards its employees with monthly bonuses based on productivity. The higher bonuses, as a result of more accurate measurement of the employees' contributions, has incentivised them to work more diligently and productively.

After achieving positive results in the first pilot phase, the company implemented the second phase of digitalisation – installing the IoT equipment permanently on 3 of its CNC machine to control the costs and productivity of the machining workflow more effectively.

The company is now embarking on the third phase, in which the Advanced Manufacturing Training Academy will review and ensure that the company's overall digitalisation plan is headed in the right direction.

Mr Chia is grateful to JTC for providing professional advice, without which he would be at a loss to know where to start. He said, "A small business like ours has never thought about engaging an international, professional consulting company like McKinsey as consultants. We thought that the cost and benefit of digitalisation would be disproportionate. JTC explained to us that as the government subsidises up to 90% of the costs, companies do not need to spend a lot of money."

Digitalisation improves the work of employees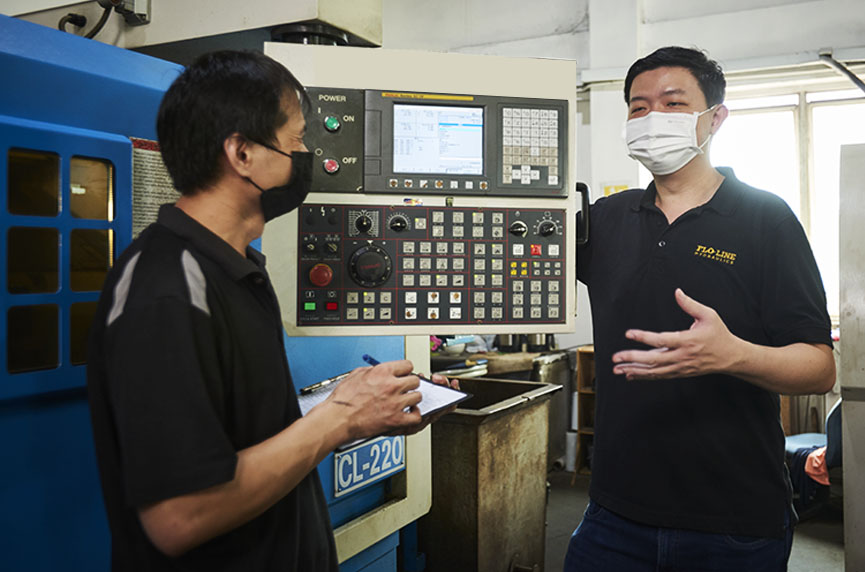 Ho Guo Liang (right), the Co-ordinating Engineer of Flo-Line Hydraulics' digital transformation, said that the employees did not resist the company's transformation and willingly cooperated because of the incentivisation. (Photograph by SPH)

Soon after joining Flo-Line Hydraulics, 32-year-old Mr Ho Guo Liang was made the coordinating engineer of the company's digital transformation plan and witnessed its progress. Tasks that previously required three people to complete now only requires two, mitigating the company's manpower shortage. During the pandemic, some of the foreign employees decided to return to their home countries, so the company shared the bonus meant for the third employee with the two employees who completed the work.

He said that most companies that implement transformation plans will usually encounter a certain degree of resistance. However, incentivisation efforts by companies can encourage employees to be part of the change.

49-year-old supervisor Mr Mohamad Razi bin Ismail has been with Flo-Line Hydraulics for the past 26 years. Before the company commenced its digital transformation in September last year, he had to frequently go around the workplace to ensure that the workers did their jobs well and to assist when they encountered problems. Now, he can easily check on their progress and problems using his mobile phone or computer.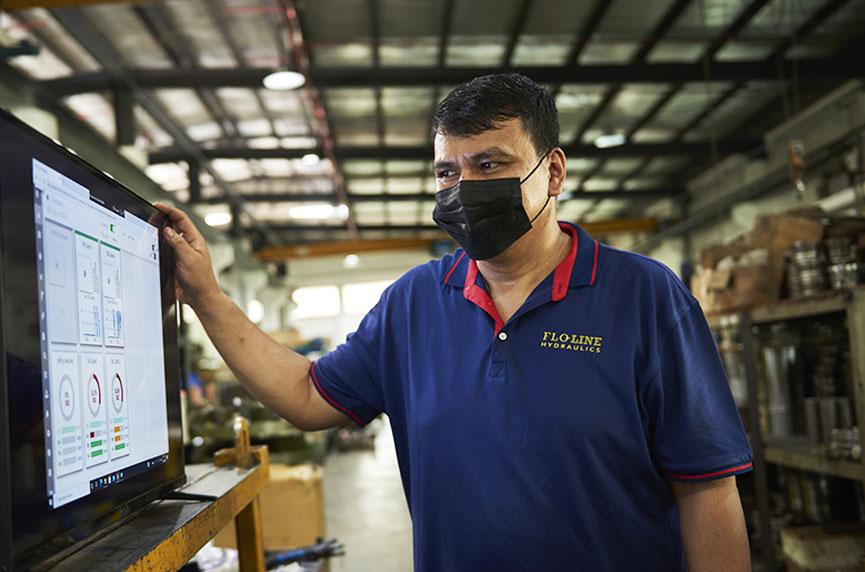 Supervisor Razi said that he has become more effective and efficient after the company's transformation. (Photograph by SPH)

Looking to digitalise your business? Find out more here about Industry Connect.
Translated from the original article,【智造新商机系列】小小配备 开启小公司数码之旅, 2 November 2021, by JTC, any errors please check back with JTC.